We are now on Telegram
Legoland Malaysia will launch the new LEGO Legends of Chima fantasy cluster starting 12 March at Miniland.
The fantasy world of LEGO Legends of Chima will be displayed in a prominent area in Miniland and it includes seven hands-on interactive elements and animation effects.
It took Master Model Builders more than 3,000 LEGO building hours to complete the models displayed in the cluster.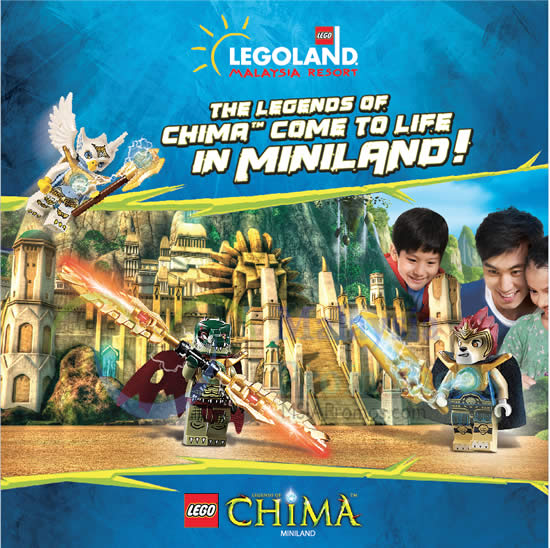 The Miniland cluster arrived to Malaysia after a successful display in Denmark. LEGO Legends of Chima Miniland comes less than a year after the LEGO Legends of Chima 4D movie was launched in the Park.
The movie uses high impact special effects such as water, wind and smoke and immerses audience in non-stop sensory adventure. LEGOLAND is the only place in Asia where you can watch the LEGO Legends of Chima movie in 4D and shows started last year.
In line with all LEGOLAND attractions, the Legends of Chima in Miniland is an interesting experience for the whole family. It features waterfalls, the floating plant Cavora, a CHI ball that changes colour, as well as a special tunnel and dome that truly allow children to get a closer look at their favourite Legends of Chima characters made entirely from LEGO bricks.
Mark Germyn, the newly appointed General Manager of LEGOLAND Malaysia Resort said: "Miniland is the heart of all our LEGOLAND Parks and we are confident that this latest interactive model display will be an engaging experience for families."
He added: "LEGO Legends of Chima Miniland is an exciting addition to the LEGOLAND Resort. This is part of our on-going commitment to enhancing the guest experience, which already includes more than 70 interactive rides, slides, shows and attractions."
The LEGO Legends of Chima product range was launched in 2013 and quickly became some of best- selling toys around the world. Various products from the Legends of Chima range are available to purchase in the Big Shop, which has the largest selection of LEGO toys in Asia.
Currently, LEGOLAND Hotel is offering great savings for families going on holidays. Until 13 March 2014, parents will be able to bring their children to enjoy the LEGOLAND Theme Park and Water Park FREE of charge when they book a stay online.
For more information on the exclusive deals, please visit the LEGOLAND Malaysia website: www.legoland.my or call the reservation office at +607- 5978888