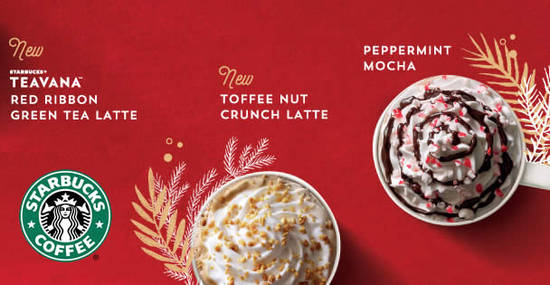 Starbucks kicks off the holiday season with celebrated seasonal coffee and beverage offerings in Malaysia.
Starbucks' beloved handcrafted holiday beverages return to stores in Malaysia for a limited time. This year, in addition to returning favorites Peppermint Mocha and Toffee Nut Crunch Latte, Starbucks is pleased to introduce a new handcrafted beverage for the holiday season – Starbucks® Teavana™ Red Ribbon Green Tea Latte – which is as flavorful as it is whimsical.
Starbucks® Teavana™ Red Ribbon Green Tea Latte: Velvety green tea combined with a splash of sweet, tangy pomegranate juice. Topped with milk foam and ruby red pomegranate drizzle.
Starbucks® Toffee Nut Crunch Latte: A returning favorite with all-new crunch topping that complements espresso and steamed milk accented by subtle caramelly sweetness. Topped with whipped cream.
Starbucks® Peppermint Mocha: Another returning favorite. Espresso and steamed milk sweetened with flavors of chocolate and peppermint topped with whipped cream, mocha drizzle, and candy cane pieces.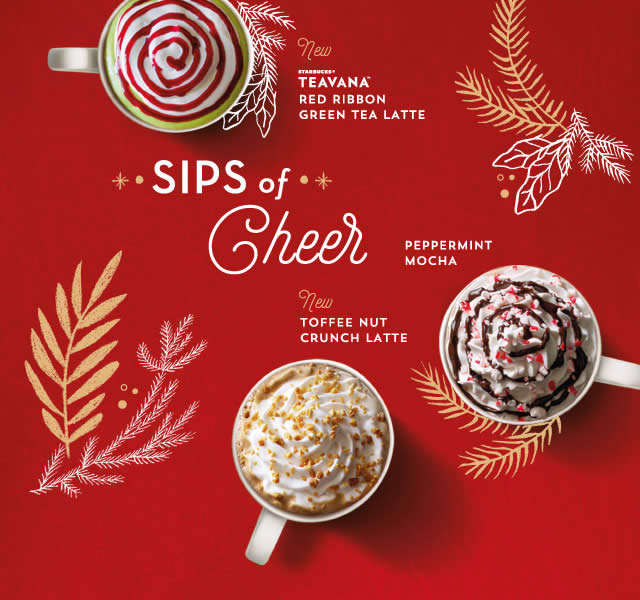 Celebrate the arrival of holiday season at Starbucks – a time to rejoice, with traditions rooted in more than four decades of passion for coffee and experiences and the connections that are inspired by the spirit of the season!