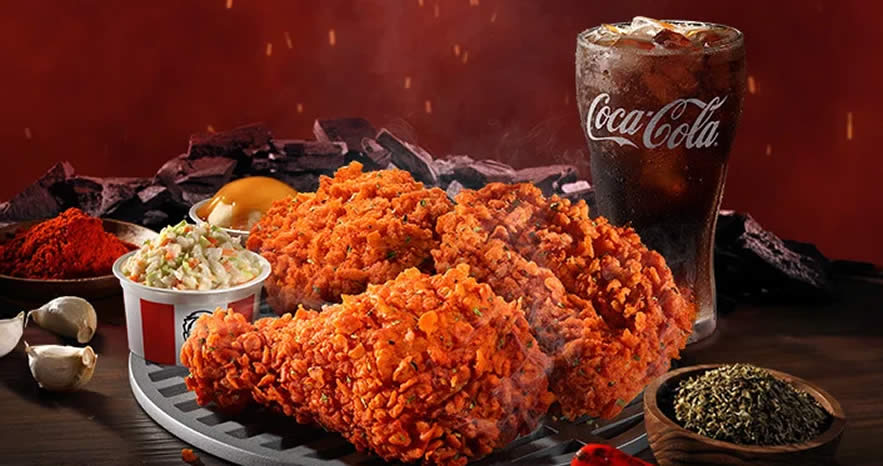 We are now on Telegram
The NEW KFC Spicy Smoky Crunch is Finger Smokin' Good!
KFC's signature hand-breaded, freshly prepared, and deliciously crunchy Hot & Spicy fried chicken gets a smoky transformation with newest smokin' hot menu innovation, KFC Spicy Smoky Crunch!
Inspired by espetadas – a traditional dish in Portuguese cuisine that boasts intriguingly perfect smoky tastes, the new KFC Spicy Smoky Crunch offers the Portuguese smokiness flavour in amped-up heat, but with a finger lickin' crunchy goodness!
The combination of Portuguese prized aromatics and spices such as smoked paprika, red bell pepper, garlic, black pepper, and tomato powder, combined with one-of-a-kind Hot & Spicy flavour creates a memorable and elevated dining experience, in every crunch-full bite!
For the full tasting experience, try our brand new dessert – KFC Banana Chocolate Ball. The sweetness of real banana with chocolate fillings incrusted in chewy glutinous skin then coated with golden crispy breadcrumbs; makes for a great palate cleanser after a smokey and spicy meal.
"Being one of the most loved brands in Malaysia, we always strive to ensure the best tasting fried chicken through our innovative limited-time offers. This time, you're in for a finger smokin' good experience with our latest KFC Spicy Smoky Crunch which comes in several value combo options that'll surely satisfy," said Chan May Ling, Chief Marketing Officer KFC Malaysia.
Prepare yourself for a smokin' hot date as the KFC Spicy Smoky Crunch and KFC Banana Chocolate Ball are officially available at all KFC stores nationwide tomorrow. Spicy Smoky Crunch starts from RM17.49 and comes in the following options: (1) 2-pcs Combo, (2) 3-pcs Combo, and (3) Box Meal. Meanwhile, you can get 5-pcs Banana Chocolate Ball à la carte or in a 6-pcs, 10-pcs, or 12-pcs Wow Bucket Combo.
Get them in-store, drive-thru, Delivery, and Self Collect. Go to www.KFC.com.my or download the KFC App to order.