Due to COVID-19, some offers may no longer be valid or temporarily suspended. Please verify the validity (even if it says "ON TODAY" below) before heading down
Trend Micro has today launched the most comprehensive security solution available that offers protection from cyber threats for PC, Mac, Android and now iOS platforms to protect consumers from the perils of Internet across multiple devices anytime, anywhere.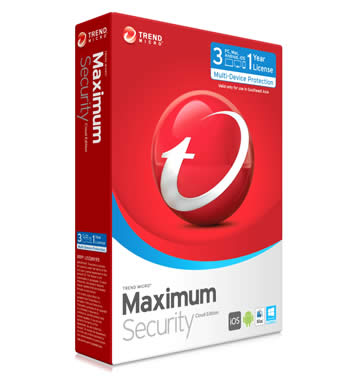 Trend Micro Maximum Security 2015 Cloud Edition is an all-in-one consumer solution that helps resolve both security and privacy issues that continue to plague Internet users.
"Consumers today are very reliant on their devices, with an average Malaysian owning four digital devices each². Yet, they often forget that having more devices also increases their exposure to cyber attacks. We are concerned about the safety of their digital lives as our survey indicated that only half of the respondents have installed security or antivirus apps or software on both their mobile devices and personal computers," said Terrence Tang, Senior Director of Consumer Business, Asia Pacific, Trend Micro.
"To users, securing all of their personal devices can be a huge challenge especially when devices today usually run on various operating systems. With this in mind, Trend Micro has expanded the Maximum Security 2015 Cloud Edition to offer a complete set of features to protect users from privacy and security breaches across multiple devices and on different platforms including PC, Mac, Android and iOS. Users can now have a peace of mind knowing that they can surf the Internet freely and enjoy their digital lives fully on any device all the time and regardless of where they are at," said Andrew Tan, Product Marketing Manager for Consumer Business, Southeast Asia, Trend Micro.
Maximum security, minimal worry
Solutions like Trend Micro Maximum Security 2015 Cloud Edition are more necessary than ever, as verified by the results of the poll revealing that risky behavior by Internet users was generating new attack opportunities for cyber criminals. Survey findings included:
58 percent of respondents only change their passwords when needed
29 percent of mobile users allow mobile apps to access their social media profiles
71 percent of surveyed parents do not use parental control settings
28 percent of respondents believe they have downloaded malicious apps, and 52 percent do not know if they have encountered such apps
Trend Micro Maximum Security 2015 Cloud Edition helps protect Internet users from potentially harmful activities online. The solution provides industry-leading anti-virus and Web-threat protection that identifies and blocks dangerous links in websites, social networks, emails and instant messaging. It also detects spam emails containing phishing scams that can trick users into revealing private personal information.
Additionally, Trend Micro found that 46 percent of surveyed respondents let their browser save their passwords online, a dangerous practice susceptible to being hacked, especially in the wake of online data breaches.
To help fight password and identity theft, Trend Micro Maximum Security 2015 Cloud Edition includes a password manager which encrypts all online passwords, enabling customers to easily log into websites without the fear of password theft. The password manager also works across multiple devices and provides a password generator to stop the common, but unsafe practice of using the same password for multiple accounts.
In an effort to provide online privacy and security of Internet users, Trend Micro Maximum Security 2015 Cloud Edition has expanded its social network Privacy Scanner to scan LinkedIn, in addition to Facebook, Twitter and Google+.
Users can now rely on Trend Micro's technology to help maintain privacy, security and positive online reputations. Trend Micro's recent poll found Internet users continue to participate in online behaviours that increase their risk of identity theft or damaging their reputation. Here's a summary of some of those findings:
73 percent of Internet users were concerned about sharing personal data via social media
42 percent of social network users removed past posts from their profiles for fear of revealing private information to strangers, while 38 percent were afraid that the information that they posted might affect their personal life
79 percent read about their friends online but have not actively connected with them
13 percent are "friends with their boss on a social network, but only 8 percent were given access to view posts or photos
"In this digital age where people are increasingly plugged-in at almost every waking moment, there is nothing more essential than to ensure a safe, uncompromised digital life. With Trend Micro Maximum Security 2015 Cloud Edition, users can maintain online privacy from strangers and cyber criminals while protecting their data," said Tang.
Pricing and Availability
Trend Micro's Maximum Security 2015 along with the Trend Micro Internet Security 2015 are available now at all leading IT retailers and the Trend Micro website at the recommended retail price listed below.
Trend Micro Maximum Security 2015 – 1 Year for 1 Device – MYR 89.00
Trend Micro Maximum Security 2015 – 1 Year for 3 Devices – MYR 139.00
Trend Micro Internet Security 2015 – 1 Year for 1 Device – Bundled with the Trend Micro Mobile Security – 1 Year for 1 Device – MYR 69.00
Trend Micro Internet Security 2015 – 1 Year for 3 Devices – MYR 99.00
In conjunction with the launch from today till the end of December 2014, consumers are also entitled to a RM30 AEON shopping voucher that is redeemable online. This promotion is only valid for the Trend Micro Maximum Security 3 users package.
Every Trend Micro consumer product is upgradable and transferable within your subscription period at no additional cost. For more details on this please contact Cedric Lim, Trend Micro Malaysia at 010-8889182 and he will be more than happy to explain more.