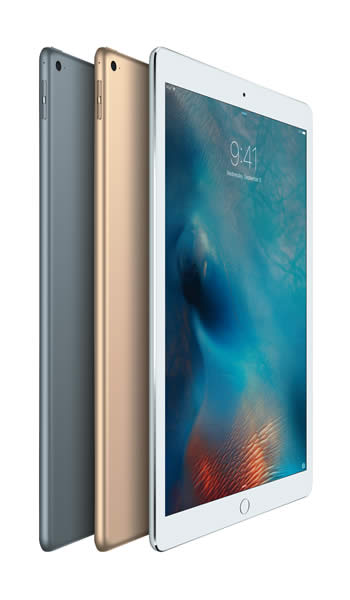 The power and portability of iPad unlock possibilities that will change the way you do the things you love.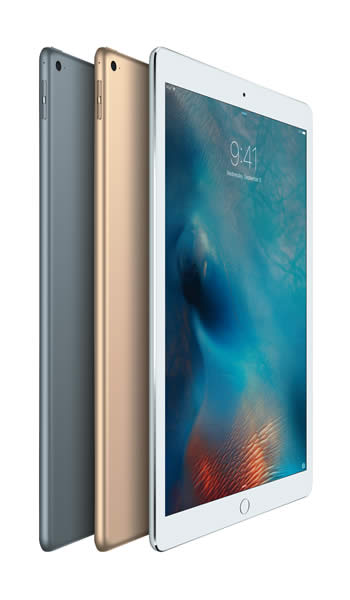 Whether your passion lies in travel, home decorating or running a small business, there are built-in features and more than 850,000 apps designed to help you bring that capability wherever you bring your iPad.
Each model features a gorgeous Retina display, front- and rear-facing cameras for stunning photos and HD videos, 64-bit desktop-class architecture and the advanced features of iOS 9.
Choose up to 128GB of storage to load up on music, movies, apps and photos. And when you select a Wi-Fi + Cellular model, you can bring the potential to do amazing things almost anywhere you go.
Click on a link to jump to a specific section
| iPad Pro | iPad Air 2 | iPad Air | iPad mini 4 | iPad mini 2 |
| --- | --- | --- | --- | --- |
Capacity
iPad Pro
iPad Air 2
iPad Air
iPad mini 4
iPad mini 2
Wi-Fi
Wi-Fi
Wi-Fi
Wi-Fi
Wi-Fi
32GB

128GB

16GB

64GB

128GB

16GB

32GB

16GB

64GB

128GB

16GB

32GB

Wi-Fi + Cellular
Wi-Fi + Cellular
Wi-Fi + Cellular
Wi-Fi + Cellular
Wi-Fi + Cellular
128GB

Available November

16GB

64GB

128GB

16GB

32GB

16GB

64GB

128GB

16GB

32GB
Weight and Dimensions
iPad Pro
iPad Air 2
iPad Air
iPad mini 4
iPad mini 2
Height

305.7 mm (12 inches)

Height

240 mm (9.4 inches)

Height

240 mm (9.4 inches)

Height

203.2 mm (8 inches)

Height

200 mm (7.87 inches)

Width

220.6 mm (8.68 inches)

Width

169.5 mm (6.6 inches)

Width

169.5 mm (6.6 inches)

Width

134.8 mm (5.3 inches)

Width

134.7 mm (5.3 inches)

Depth

6.9 mm (0.27 inch)

Depth

6.1 mm (0.24 inch)

Depth

7.5 mm (0.29 inch)

Depth

6.1 mm (0.24 inch)

Depth

7.5 mm (0.29 inch)

Weight (Wi-Fi)

713 grams (1.57 pounds)

Weight (Wi-Fi)

437 grams (0.96 pound)

Weight (Wi-Fi)

469 grams (1 pound)

Weight (Wi-Fi)

298.8 grams (0.65 pound)

Weight (Wi-Fi)

331 grams (0.73 pound)

Weight (Wi-Fi + Cellular)

723 grams (1.59 pounds)

Weight (Wi-Fi + Cellular)

444 grams (0.98 pound)

Weight (Wi-Fi + Cellular)

478 grams (1.05 pounds)

Weight (Wi-Fi + Cellular)

304 grams (0.67 pound)

Weight (Wi-Fi + Cellular)

341 grams (0.75 pound)
Display
| iPad Pro | iPad Air 2 | iPad Air | iPad mini 4 | iPad mini 2 |
| --- | --- | --- | --- | --- |
| 12.9″ Retina display | 9.7″ Retina display | 9.7″ Retina display | 7.9″ Retina display | 7.9″ Retina display |
| 12.9-inch (diagonal) LED-backlit Multi-Touch display | 9.7-inch (diagonal) LED-backlit Multi-Touch display | 9.7-inch (diagonal) LED-backlit Multi-Touch display | 7.9-inch (diagonal) LED-backlit Multi-Touch display | 7.9-inch (diagonal) LED-backlit Multi-Touch display |
| 2732-by-2048 resolution at 264 pixels per inch (ppi) | 2048-by-1536 resolution at 264 pixels per inch (ppi) | 2048-by-1536 resolution at 264 pixels per inch (ppi) | 2048-by-1536 resolution at 326 pixels per inch (ppi) | 2048-by-1536 resolution at 326 pixels per inch (ppi) |
| Fingerprint-resistant oleophobic coating | Fingerprint-resistant oleophobic coating | Fingerprint-resistant oleophobic coating | Fingerprint-resistant oleophobic coating | Fingerprint-resistant oleophobic coating |
| Fully laminated display | Fully laminated display | — | Fully laminated display | — |
| Antireflective coating | Antireflective coating | — | Antireflective coating | — |
Chip
iPad Pro
iPad Air 2
iPad Air
iPad mini 4
iPad mini 2
A9X third-generation chip with 64-bit architecture

CPU: 2.5x faster

Graphics: 5x faster

Compared to A7

A8X second-generation chip with 64-bit architecture

CPU: 1.4x faster

Graphics: 2.5x faster

Compared to A7

A7 chip with 64-bit architecture
A8 second-generation chip with 64-bit architecture

CPU: 1.3x faster

Graphics: 1.6x faster

Compared to A7

A7 chip with 64-bit architecture
M9 motion coprocessor
M8 motion coprocessor
M7 motion coprocessor
M8 motion coprocessor
M7 motion coprocessor
FaceTime HD Camera
| iPad Pro | iPad Air 2 | iPad Air | iPad mini 4 | iPad mini 2 |
| --- | --- | --- | --- | --- |
| 1.2-megapixel photos | 1.2-megapixel photos | 1.2-megapixel photos | 1.2-megapixel photos | 1.2-megapixel photos |
| 720p HD video | 720p HD video | 720p HD video | 720p HD video | 720p HD video |
| FaceTime video calling over Wi-Fi or cellular | FaceTime video calling over Wi-Fi or cellular | FaceTime video calling over Wi-Fi or cellular | FaceTime video calling over Wi-Fi or cellular | FaceTime video calling over Wi-Fi or cellular |
| Face detection | Face detection | Face detection | Face detection | Face detection |
| Backside illumination | Backside illumination | Backside illumination | Backside illumination | Backside illumination |
| Burst mode | Burst mode | — | Burst mode | — |
iSight Camera
| iPad Pro | iPad Air 2 | iPad Air | iPad mini 4 | iPad mini 2 |
| --- | --- | --- | --- | --- |
| 8-megapixel photos | 8-megapixel photos | 5-megapixel photos | 8-megapixel photos | 5-megapixel photos |
| Autofocus | Autofocus | Autofocus | Autofocus | Autofocus |
| Face detection | Face detection | Face detection | Face detection | Face detection |
| Backside illumination | Backside illumination | Backside illumination | Backside illumination | Backside illumination |
| Five-element lens | Five-element lens | Five-element lens | Five-element lens | Five-element lens |
| Hybrid IR filter | Hybrid IR filter | Hybrid IR filter | Hybrid IR filter | Hybrid IR filter |
| ƒ/2.4 aperture | ƒ/2.4 aperture | ƒ/2.4 aperture | ƒ/2.4 aperture | ƒ/2.4 aperture |
| HDR photos | HDR photos | HDR photos | HDR photos | HDR photos |
| Panorama | Panorama | Panorama | Panorama | Panorama |
| Burst mode | Burst mode | — | Burst mode | — |
Video Recording
| iPad Pro | iPad Air 2 | iPad Air | iPad mini 4 | iPad mini 2 |
| --- | --- | --- | --- | --- |
| 1080p HD video recording | 1080p HD video recording | 1080p HD video recording | 1080p HD video recording | 1080p HD video recording |
| Tap to focus while recording | Tap to focus while recording | Tap to focus while recording | Tap to focus while recording | Tap to focus while recording |
| Video stabilisation | Video stabilisation | Video stabilisation | Video stabilisation | Video stabilisation |
| Face detection | Face detection | Face detection | Face detection | Face detection |
| Backside illumination | Backside illumination | Backside illumination | Backside illumination | Backside illumination |
| 3x video zoom | 3x video zoom | 3x video zoom | 3x video zoom | 3x video zoom |
| Time-lapse video | Time-lapse video | Time-lapse video | Time-lapse video | Time-lapse video |
| Slow-motion video | Slow-motion video | — | Slow-motion video | — |
Touch ID
| iPad Pro | iPad Air 2 | iPad Air | iPad mini 4 | iPad mini 2 |
| --- | --- | --- | --- | --- |
| Fingerprint identity sensor built into the Home button | Fingerprint identity sensor built into the Home button | — | Fingerprint identity sensor built into the Home button | — |
Cellular and Wireless
| All models | All models | All models | All models | All models |
| --- | --- | --- | --- | --- |
| Wi-Fi (802.11a/b/g/n/​ac); dual channel (2.4GHz and 5GHz) | Wi-Fi (802.11a/b/g/n/​ac); dual channel (2.4GHz and 5GHz) | Wi-Fi (802.11a/b/g/n); dual channel (2.4GHz and 5GHz) | Wi-Fi (802.11a/b/g/n/​ac); dual channel (2.4GHz and 5GHz) | Wi-Fi (802.11a/b/g/n); dual channel (2.4GHz and 5GHz) |
| MIMO | MIMO | MIMO | MIMO | MIMO |
| Bluetooth 4.2 technology | Bluetooth 4.2 technology | Bluetooth 4.0 technology | Bluetooth 4.2 technology | Bluetooth 4.0 technology |
| Wi-Fi + Cellular | Wi-Fi + Cellular | Wi-Fi + Cellular | Wi-Fi + Cellular | Wi-Fi + Cellular |
| GSM/EDGE | GSM/EDGE | GSM/EDGE | GSM/EDGE | GSM/EDGE |
| CDMA EV-DO Rev. A and Rev. B | CDMA EV-DO Rev. A and Rev. B | CDMA EV-DO Rev. A and Rev. B | CDMA EV-DO Rev. A and Rev. B | CDMA EV-DO Rev. A and Rev. B |
| UMTS/HSPA/​HSPA+/​DC-HSDPA | UMTS/HSPA/​HSPA+/​DC-HSDPA | UMTS/HSPA/​HSPA+/​DC-HSDPA | UMTS/HSPA/​HSPA+/​DC-HSDPA | UMTS/HSPA/​HSPA+/​DC-HSDPA |
| 4G LTE | 4G LTE | 4G LTE | 4G LTE | 4G LTE |
| Data only | Data only | Data only | Data only | Data only |
SIM Card
iPad Pro
iPad Air 2
iPad Air
iPad mini 4
iPad mini 2
Nano-SIM

(Apple SIM compatible)

Nano-SIM

(Apple SIM compatible)

Nano-SIM
Nano-SIM

(Apple SIM compatible)

Nano-SIM
Connector
| iPad Pro | iPad Air 2 | iPad Air | iPad mini 4 | iPad mini 2 |
| --- | --- | --- | --- | --- |
| Lightning | Lightning | Lightning | Lightning | Lightning |
Power and Battery
Up to 10 hours of surfing the web on Wi-Fi, watching video or listening to music
Up to 9 hours of surfing the web using a cellular data network
Charging via power adapter or USB to a computer system
Sensors
| iPad Pro | iPad Air 2 | iPad Air | iPad mini 4 | iPad mini 2 |
| --- | --- | --- | --- | --- |
| Touch ID | Touch ID | — | Touch ID | — |
| Three-axis gyro | Three-axis gyro | Three-axis gyro | Three-axis gyro | Three-axis gyro |
| Accelerometer | Accelerometer | Accelerometer | Accelerometer | Accelerometer |
| Ambient light sensor | Ambient light sensor | Ambient light sensor | Ambient light sensor | Ambient light sensor |
| Barometer | Barometer | — | Barometer | — |